Neweb4u.com Services is based in Reno, Nevada USA.
Need a new website? If you would like to get a new website, upgraded, maintained or hosted please use the Contact Form to set an appointment by phone to get started!
About Neweb4u.com Services

Hello, my name is Richard. I am the owner of Baldwin Studios Web Development and Hosting. I am a website developer providing my services to the Reno NV area and beyond.
I have been making websites for about 9 years. My programming skills are HTML, XHTML, JavaScript, CSS, Adobe CS3+ (webdesign software) PHP and MySQL, Wordpress, Joomla and Drupal.
For over 16 years I have studied computers by using them, reading about them and taking various classes to improve my skills. It has been my hobby and now profession since 2012 with Baldwin Studios Web Design and Hosting.
In my early experience with computers, I owned the early Macintosh PC's (late 1980's) on up through Windows XP, Vista and Wondows 7 and now 8. I have worked with each version of Operating System from Windows 95, 98, Me, 2000, XP and Mac OS V through OSX.
Network Administration
I currently work with UNIX machines (Linux Operating Systems) and have experience with Microsoft Servers 2003+.
I have about three years experience as Network Administrator for small business. I was employed as Webmaster and Network Administrator for a large Furniture Company called Reno Gallery of Furniture, as well as Baldwin Environmental, my fathers high-tech Air Quality Control company.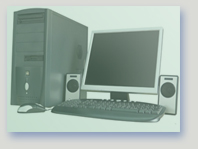 While working for the furniture store I helped assist setting up their furniture network from the ground up. This consisted of over 18 computers and one server. They had three large furniture locations and warehouses to connect.
As Network Administrator, I maintain computers, back-up the server, make installations of new software, monitor security setups, upgrade licenses and perform general OS (Operating System) maintenance.
Computer Repair and Tech Services
Is your computer not working right? I do computer repair! My rates are reasonable so give me a call! I Guarantee your computer will work normally again or my work is free!
I will travel to where you are within the Reno and Sparks area to repair your computer too. Please call me at 775-338-1082.
About my Web Development Services:
I guarantee to create websites which are clear to the user: visually enjoyable to visit, technically solid (Validates with W3C) and easy for users to figure out. This means getting the information and goods to customers as fast and efficiently with a great visual presentation and using Search Engine optimizing and e-commerce.
My main living
I am a full time piano and vocal teacher during the afternoons. I do my webmastering during the earlier part of the day or the later evenings. Supporting my services helps support the arts!
Thank you for reading!
Sincerely,
Richard